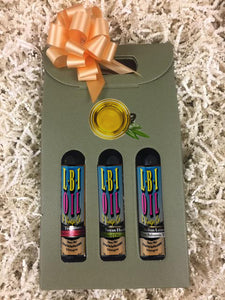 Ultra Premium Olive Oil with Dark and White Balsamic, 200 ML Perfect Gift Pack
Gifts
Regular price $46.99 Sale
Tuscan Herb Olive Oil
Made with Certified Ultra Premium Olive Oil, our Tuscan Herb Infused Olive Oil contains a harmonious and delicious combination of herbal flavors including oregano, basil, garlic, marjoram and rosemary herbs.
Traditional  Balsamic Vinegar                                                                               Our finest grade of aged balsamic condimento from Modena, Italy is produced in  traditional style. It is aged using the Solera System for up to 18 years in chestnut, oak, mulberry and ash barrels.
Sicilian Lemon Balsamic
Playfully tart and pleasantly sweet, our Sicilian Lemon White Balsamic has a perfectly balanced acidity and crisp, lemon flavor and aroma.
This pack contains one 200 ml bottle of olive oil, one 200ml Dark Balsamic Vinegar and one 200ml White Balsamic Vinegar - perfect for the holidays.